Description
Interested in making your own smart textiles? The "WEARIC – Smart Textiles KIT" is the world's first do it yourself package with textile sensors. Plug and play – use your existing nano controller and connect it with the WEARIC expansion board and the textile sensors. It was never so easy to make your own innovative sensor textile and wear it. From heated cloth to weight measurement in chairs, there are no limits to your creativity and your projects – Do it!
The WEARIC Expansion Board is compatible with Nano V3.0 Atmel Atmega328 microcontrollers. With snaps you can connect easily all WEARIC sensors or your own sensor textiles with the Nano controller. The expansion board converts the sensor signal for the controller and you can focus on programming your application and make your project.
Additional functionalities
You need more functionality? The board includes a temperature sensor as well as an interface for a display and a Bluetooth module. How smart textiles work and tutorials for your first project you find in our learn section. Do it! Make it! Wear it!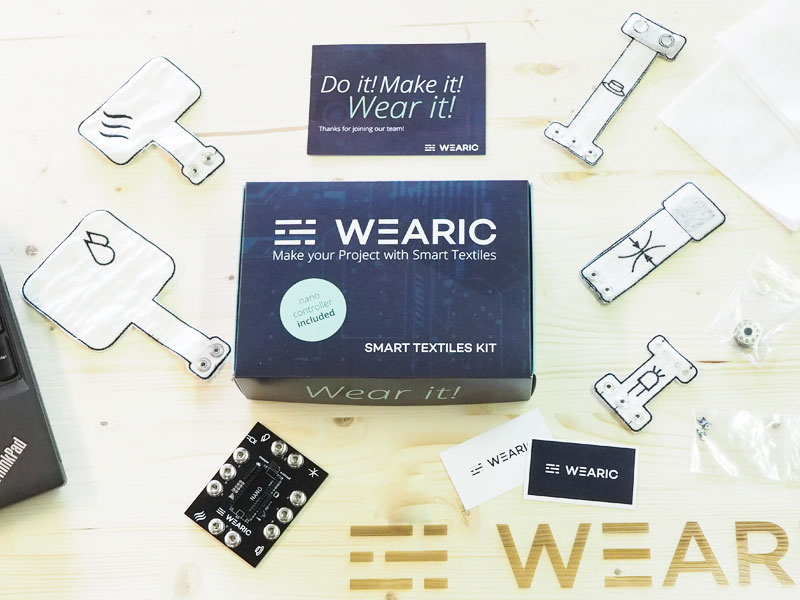 This set includes:
WEARIC Expansion Board for Nano V3.0 Atmel Atmega328
1 x spool conductive yarn, silver coated 235/36dtex, 20 m
1 x needle
2 x sewable LED module, blue & white
1 x WEARIC textile pressure sensor
1 x WEARIC textile pushbutton double
1 x WEARIC LED textile double
1 x WEARIC textile heating
1 x WEARIC textile wetness sensor
1 x Isolation non-woven with adhesiv coating, 30x30cm
Product Downloads
YOU CAN FIND THE DATASHEETS FOR THE SMART TEXTILE KIT IN THE LINK BELOW.
More informations, additional datasheets, PCB-Layout, circuit diagrams, etc. you can find them in our download section.
Make
You need some help and information for your cool projects. Find instructions for smart projects with smart textiles. Get inspired and find detailed tutorials how to work with WEARIC products and kits.